La SalvadoReina is back and starting 2015 with a new track and music video alongside Salvadoran rapper FenomeDon. La SalvadoReina met FenomeDon at David Amoroso's Delicado/Violento (Delicate/Violent) art exhibition and hip-hop concert. This event featured a series of portraits by contemporary artist David Amoroso of underground rappers of the DC Latino music scene, who then performed for the art show. Amoroso's paintings depicted violent postures juxtaposed against delicate backgrounds. FenomeDon and La SalvadoReina bonded over their names (both a play on words), hip-hop and being Salvadoran, which caused them to want to collaborate with one another. FenomeDon has been working with hip-hop artists for many years, but this is his first time adding Cumbia to his music. "It is an honor to be working with FenomeDon, who is a great Salvadoran rapper who has been working with many other hip-hop artists like Los Reyes Del Bajo Mundo from New York for many years," says La SalvadoReina.
For this track, FenomeDon asked La SalvadoReina to send him one of her favorite Cumbia songs to sample. She sent him Cumbia de Mi Tierra by La Qrquesta Sangre Morena and that is when the collaboration officially started.
"Once we finished the song, I told FenomeDon I wanted to make a music video with him and Amoroso, since we met at his art exhibition. In this music video, we use two of Amoroso's painting, his painting of Miss El Salvador and FenomeDon. I loved that red painting of FenomeDon where he is showing off his tattoo that says Sangre De Mi Sangre (Blood of My Blood). I think it says so much about him and what he stands for. He cares about his people and culture. He cares about making conscious music. We used the Miss El Salvador painting to represent me. I really saw myself in this painting by Amoroso," says La SalvadoReina.
The video also features members of La Banda Pulgarcito U.S.A. baby playing their trumpets during the chorus of the song. The vintage microphone and effects add to the era of cumbia in El Salvador that both artists wanted to honor with this track.
Miss El Salvador:
Una mujer Salvadoreña sabe usar el comal y como preparer pupusas
También sabe como planchar la ropa mientras que esta cuidando los niños
y cuando su esposo "El Cabron" se va sabe mantener la familia.
Ella es fuerte…
*The text on the painting communicate the gender norms La SalvadoReina wants to bring to light in her music.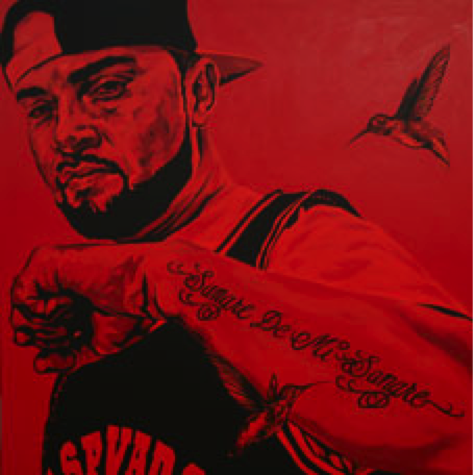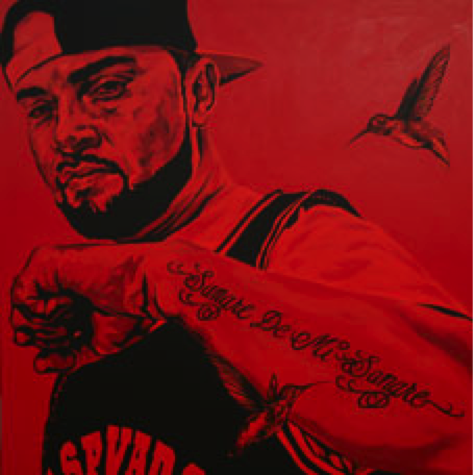 FenomeDon: Sangre De Mi Sangre
Song:
De Mi Tierra – La SalvadoReina ft. FenomeDon
Music video:
Directed by Cindy Zavala
Filmed by Efrain Ramirez, FenomeDon y David Amoroso
Art by David Amoroso
Edited by FenomeDon